Reader Rabbit Learn to Read with Phonics: Preschool & Kindergarten is a computer game in The Learning Company's Reader Rabbit series of children's educational games that teaches children to read with phonics. It was released in 2000.
Mattie the Mouse goes to a fun fair but can't read any of the signs. Angry and annoyed, when she comes across a wish machine she wishes that there are no more words in all of Wordville. The next morning she realizes her mistake and tries to reverse the spell, but is unable to because the wish machine is taken away by some monkeys. The wish machine, before leaving, gives her a piece of paper with a secret message she has to fill by finding all the letters. She sits on a stage, really sad about what she has done, and confused about how to find the letters, until some hamsters offer to help her with getting the words back. She is delighted and gets the words back in due time by filling in the secret message with the help of the player, the hamsters and Reader Rabbit.
Gameplay
Edit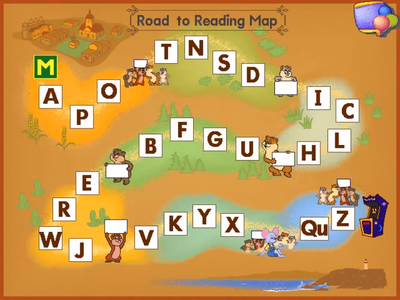 The game consists of two modes. The "Pick and Play" mode is for younger players who are learning letters and sounds, and is similar to a Practice Mode, where the player can play the activities in the game without having to follow the main story (although the player can read the books in this mode if so desired). The "Road to Reading" mode is for slightly older players, who are literate enough to read the stories included and follow the adventure.
Activities
Edit