Sam the Lion


Vital statistics
Gender
Male
Species
Lion
Occupation
Leader of the Read Now! club
Residence
Wordville
Family
Sampa (grandfather)
First Appearance
Reader Rabbit's Interactive Reading Journey 2
Voiced By
Roger Jackson (1993)
Terry McGovern (2000)
Tom Eastwood (UK)
Sam is a lion who is one of Reader Rabbit's best friends. The song he sings is Sam's Song. In the 1986-1993 games, he wears a green t-shirt. In the 2000s games, he looks younger and wears a green shirt. In Reader Rabbit 2nd Grade, he is voiced by Roger Jackson. In the 2000s games, he is voiced by Terry McGovern.
Appearances
Edit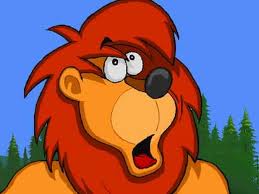 He appears in most of the '90s games and all of the 2000s games. He appears as a cub driving a ship in Reader Rabbit Math Adventures Ages 6–9, in the flashback. He also teams up with Penelope the Parrot in all activities except Monkey Pizza Party. He meets his grandpa, Grandpa Sampa, in Reader Rabbit Learn to Read with Phonics: 1st and 2nd Grade, which also shows that his residence is a treehouse and that he was born in Gunk. He also appears as the main protagonist of the live-action/animated educational reading video series Read Now! and is the mascot and leader of the club, with a shiny red nose, a red mane and a red tuft of hair on his tail.
Personality
Edit
Sam likes to go on adventures with his friends and crack jokes. He cares a lot about how he looks (especially in front of others), but he cares more about Reader Rabbit and his friends.
His best friends are Reader Rabbit, Paige and Chester.